From the pharmacy to the bedside, we help maximise safety, streamline processes and build cost efficiency throughout the hospital.
The information contained in this page is intended for Ireland healthcare professionals only.
We understand the challenges of modern healthcare and your focus on delivering the highest standards of care to a growing patient population, while ensuring every hospital function is safe, efficient, and as cost-effective as possible.
As a leader in medication preparation and delivery, we are committed to delivering patient-centric innovations that are designed to support access to the right product at the right time, while reducing preventable medication errors. In the moments that count, our IV solutions, premixed drugs, pharmacy and infusion technologies are found in hospitals and clinics around the world.
Advancing Global Hospital Care
Pharmacy Services and Compounding
Baxter is a leading provider of a comprehensive range of outsourced aseptic preparations and services.

Baxter has more than 30 years of experience in working in partnership with the HSE and the private sector to deliver aseptic preparation services. Through collaborative partnership arrangements with hospitals, Baxter has a unique understanding of the challenges of delivering an efficient pathway from drug procurement through aseptic preparation to drug delivery to the patient.   

With state-of-the-art manufacturing facilities and broad expertise in medical devices and pharmaceuticals, Baxter is relied upon by hospitals across the country to provide tailored, seamless support as they need it.

Crucially, at the heart of everything we do is the necessity to maintain the highest calibre of quality management, to ensure patient safety and clinical excellence.  Our compounding units are licensed to cGMP standard by the Health Products Regulatory Authority (HPRA).

This robust quality management commitment runs from the very beginning of our manufacturing process all the way through to the patient's bedside and is integral to everything we do.

You can access the Pharmacy Services online ordering tool here to view, place and manage orders.
Outpatient parenteral antimicrobial therapy (OPAT)
OPAT offers several advantages to both patients and healthcare providers1. It allows the patient to receive their treatment at home, and has been shown to deliver successful outcomes whilst reducing costs2.

Baxter enables the HSE to realise the benefits of OPAT in a number of ways. Baxter Infusor devices support moving suitable OPAT patients to a self-care model (S-OPAT) whether it is for antibiotics requiring once daily doses or multiple doses. Additionally we partner with nursing providers to train and support hospital clinicians and home patients, ensuring they are comfortable with the transition from hospital to home and are ready to self-care. With over 30 years' experience of providing high quality aseptic compounding supported by extensive stability data, we can help you release the burden on your bed capacity, by treating patients at home.

Baxter deliver the compounded, ready to use infusion devices along with the ancillaries and equipment needed, direct to the patients home. In addition we can provide a flexible nursing service that can train both patients and community staff. Further support is also available through our Customer Services Homecare team. 

In addition to providing an S-OPAT service, Baxter also supports the HSE H-OPAT (nurse administered) programme with our compounded ready to use infusion devices.

Our particular focus on maximising the number of self-caring patients helps reduce the overall cost of the nursing.

Follow this link to the OPAT website to view patient stories, webinars, key educational videos and training material. Find out more about our elastomeric devices and how they can empower patients to be treated outside of hospital in the comfort of their own home.
Access
We work with a wide range of hospitals and clinics, as well as disaster relief organisations to help ensure that vital medications are available when and where they're needed.
Quality
Our premixed drugs and solutions are prepared with precision accuracy, and our pharmacy technology supports custom preparation; helping to ensure consistent and predictable treatment.
Safety
Our intelligent infusion systems and premixed solutions are designed for simple and intuitive use, helping to reduce the risk for preventable medication errors and infections.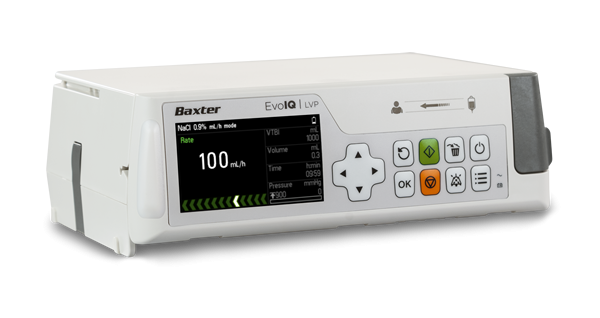 Evo IQ Infusion System
Evo IQ Infusion System
From market-leading experience comes the Evo IQ infusion system, with a unique array of features to help elevate the standard of patient safety, enhance clinician efficiency, and empower the adoption of new technologies, now and in the future.
The Evo IQ Infusion System strives to set a new standard of care in the medication administration process, and is designed with flexible technology and wireless connectivity built-in – to ensure it can help facilities implement future technologies and applications.
The Evo IQ volumetric pump is intended for use in a wide variety of patient care environments that includes adult, paediatric, and neonatal. The Evo IQ volumetric pump facilitates the delivery of routine critical infusion therapies via continuous and intermittent delivery using primary and secondary infusion modes.
For safe and proper use of the Evo IQ Infusion System please refer to the appropriate Instructions for Use, Operation Manual or User Guide.